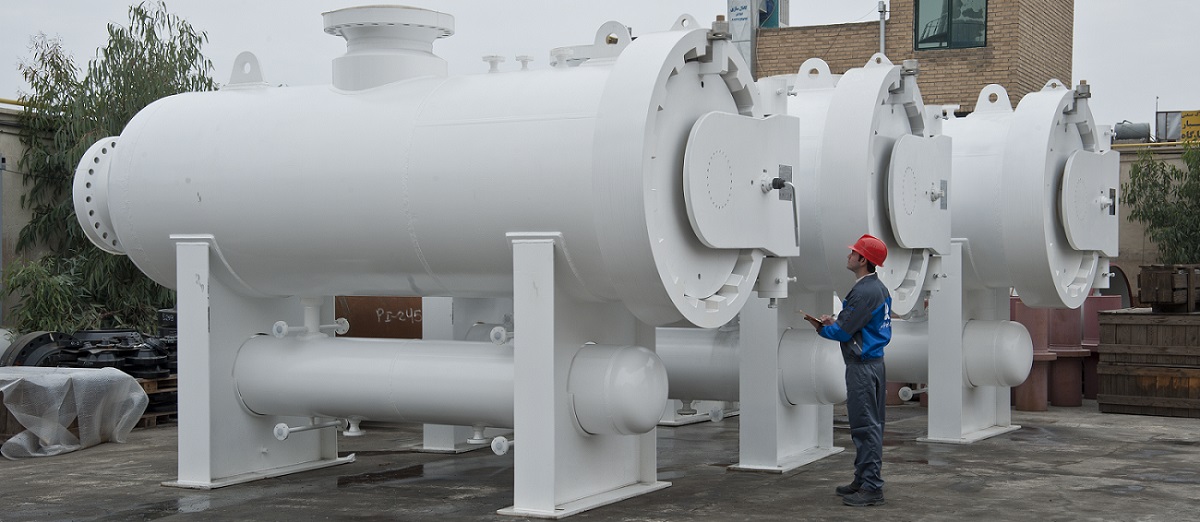 Pressure Drop

NPI filtration is normally designed for an initial pressure drop through the unit of 8 psi with clean elements and at maximum design flow conditions. However, this is not a limitation, lower or higher pressure drop design is used dependent on customer requirements.
Configuration

NPI filter separators are available in vertical and single or double barrel horizontal configurations. Quick opening Closures used for access to the replaced filter elements.
Vane Elements

NPI vane mist eliminators are high capacity inertial separators constructed as banks of parallel, chevron profiles which cause the gas to change direction several times from inlet to outlet. Momentum forces entrained liquid droplets to impinge on the vane surfaces where they form a liquid film and drain.
Namdaran Petrogas Industries Co. (NPI) filter separator is a multi-stage unit that utilizes four or more methods of gas conditioning in order to remove %100 of the solid and liquid particle 8-5 microns and larger, and %99.5 of the particles as small as 3 microns. NPI provides and maintains high efficiency and performance throughout a wide flow range by conditioning article in the gas stream.
Applications

NPI filtration is a multi- stage separator used in a variety of applications in the natural gas and chemical process industries for below application:
- Gas & Petrochemical Plants
- Gas compressor station
- Gas Inlet to Chemical
- Gas Gathering Systems
- Metering station and city gates
- Transmission Stations
- Fuel lines to power plants and engines
Element Life

The filter Coalescer element is designed for a collapsing pressure of 35 to 50 psi to insure that elements will not fail should the pressure differential reach this magnitude. To prolong the life of the elements, NPI filtration provides a blowdown connection to allow cleaning of the element while in operation.