Two phase separator
These are the simplest design, which simply extract oil and gas (phase one) from water (phase two).
Three phase separator
More advanced analysis is facilitated with a threephases separator, which divide oil (phase one), gas (phase two), and water (phase three).
Applications
- Exploration of both onshore and offshore wells
- Well development
- Well production and resource extraction
- Post-production cleanup
- Early production facilities and extended appraisal tests.
- Dill stem testing operations.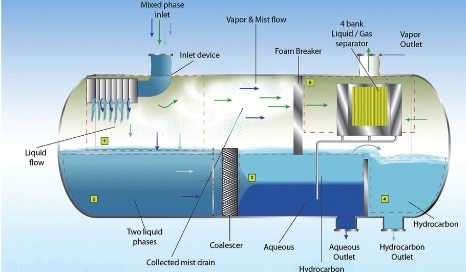 Skid-mounted mobile test separators (MOS) perform a vital function in the analysis of both onshore and offshore wells. When gas and oil are contained in water effluent, site engineers need to accurately determine the relative composition of the fluid in order to make critical decisions that affect costs and production efficiency. Well test separators are considered essential equipment in the exploration, development and production of active wells. They provide an ongoing return on investment by giving onsite decision-makers crucial information that facilitates the more efficient extraction of valuable resources. Typical MOT are made up of a storage vessel, a multimeter measuring system that detects oil and gas flow rates, relief values to negate excessive pressure, and sampling points where effluent is extracted for analysis. Test separators are available in the following configurations:
Process Equipment Unit
- Two/three phase separator
- Crude oil transfer pumps
- Demulsifier Package which include tank and injection pumps

Utility Unit
- Gas oil storage tank
- Nitrogen package
- Diesel generator
- Instrument air system package (including air compressors, air dryers and air receivers).

Portable Cabin
Includes accommodations for operators and control cabin.